Habbo coins … habbo items… Clubs… Guide… Habbo doesn't have much instruction and other introduction about the game. If you're a first time player you'll get confuse easily about the game. There are several Clubs in Habbo that you can join; Habbo Club is one of the clubs you can join at. Members are able to take advantage of its special features; special features like rare furniture each month, a special membership badge, new room layouts, more dance moves, a wider selection of clothes and colors, colored speech bubbles, access to the club shop and much, much more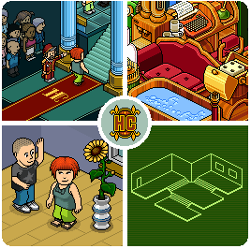 Membership Badge, Habbo coins, habbo items and more!
Badges are habbo items that your avatar is able to wear; badges are more of an emblem that shows your achievements in-game that gives you more reputation. Though badges doesn't have boosters or helps for your habbo coins earning, it helps you to be trusted by the players in-game especially when you're trading in the market.
Habbo coins. Coins are being use to buy temporary or permanent furniture that may help your room's activities and popularity.
Clothes, hairstyles and accessories. These habbo items doesn't have booster on your game progress but it does help the habbo community to know you.