Habbo coins investment from Casino are one of the effective ways to gain money in Habbo. However having high habbo gold bars first is a must since you'll be risking your luck on games like this. But being a Casino host is different.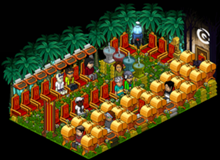 Starting up your Casino to win Habbo Coins
Setting up your own Casino Room cost a fortune so before you setup your own casino room make sure you have at least 300 Habbo gold bars.
Increase your Casino Room's value and popularity by placing thrones as seats and other super rare furniture. Having high value room invites rich people and trusted people to go bet and deal in your room.
Hosting a LMS (Last Man Standing) regularly in your room will get your room populated more.
Add the most people you often see in casinos. Having your room's appearance look good, having nice badges and motto will bring more players. While adding more casino goers will help boost your casino's population as they'll be able to see your room as soon as you open your casino.
Find a good partner or anyone that is willing to invest their Habbo coins in helping you run your casino. Having a partner who is always online is also advisable since you can do shifting in hosting your casino. Partner who also has lots of friends added will also boost your casino's popularity and audience.